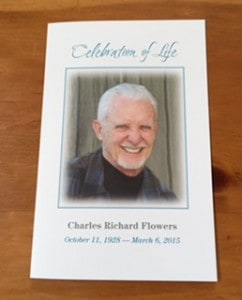 On Sunday, April 19, we said 'good-bye' to  my husband Charles. Now I move into my 'official' new life without him––my best friend, my partner, my biggest supporter. His life on earth is over and our marriage has ended. I will miss him! I know the bible verses of encouragement and I know we will meet again in heaven (that's the good news) but it's hard here on earth right now.
My house is quiet: no TV noise, no humming of the washing machine, no bits of conversation between us, no hugs and kisses, no shoes stomping off the dirt from the garden after a long day of pruning and shaping plants. Only memories. Most are wonderful. Some not so. He was not a perfect man, nor I a perfect woman (no such thing, right?) but we were 'perfect' for each other.
Farewell, my love, until we meet again and live forever in the place God has prepared for us.