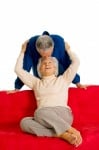 Courtesy: freedigitalphotos.net
My husband came home from work one night and laid one on me–a smash-mouth kiss–right there at the door.  Then he handed me a box of chocolate kisses. "Karen, it's time we got into kisses again—chocolate and otherwise," he said, lifting his brow with a hint of romance.  "We're rushing too much.  We need to take time for each other, to be close again. I miss kissing!"
Wow! I didn't know what to say so I unwrapped a piece of the silver foil-wrapped candy and popped it into my mouth.  I thought we were into kissing. I kissed Charles at the door when we left for work each morning and I kissed him when he arrived home at night and again before dropping off to sleep. Kiss! Kiss! Kiss!
But now that I thought of it, my kisses were more like peck, peck, peck!  A peck on the cheek. A peck on the lips. A peck on the top of his head.  Hmmm!  He had given me something to think about.  And think about it I did.
Then I jumped online and did a 'kissing search.' I found a neat little article titled "The 20-Second Kiss" on the Bottom Line Secrets web site.  http://www.bottomlinesecrets.com/blpnet/article.html?article_id=136510
"The 20-second kiss can revive the feelings that brought you together. A long, slow, deliberate kiss–which need not progress to further sexual activity–can be a great reviver of closeness. Simply agree that either of you can ask directly for a 20-second kiss when feeling underloved or underappreciated. Also helpful: The 60-second hug. Use it to say good-bye or to reconnect after a busy day. About halfway through a long hug, you will relax in each other's arms and feel a great release of tension."
I popped a couple more chocolate kisses in my mouth and savored their sweetness while I read the 'secret' again. That evening I bumped into an article in a magazine on the coffee table that encouraged people to exercise their lips, because as we age, they become thin. The author's answer to thin lips? Kissing, of course.
Within a few minutes, I had a wealth of new info on a topic I hadn't given much thought to.  Wait till I show this to Charles.  He'll love it. Then I thought better of handing him the articles. I mean how romantic is that? "Honey, here's the latest scoop on the health benefits of putting our lips together!" No! I needed to demonstrate.
The next morning when he was about to walk out to the garage, I stopped him at the door.  "Hey, where's my kiss?"
He blew me a kiss. I couldn't believe it. No lip-to-lip contact. And after his request for more kissing just the night before, and after all the research I did on google he blows me a kiss?  No way, Mister.
I grabbed him by the shoulders and turned him toward me. "I want to kiss you good-bye," I said.
And with that I pressed my lips against his and felt his warm, sweet breath overtake me.  I lingered for at least twenty seconds, though I didn't time it. That would've been tacky!  Then he got into it and I imagine we went over the limit by a good three or four seconds.  Ahhh!  No chocolate kiss can take the place of the real deal with the one you love.
He smiled, lifted his brow in that romantic way of his, and opened the door. "Bye," he whispered, as then he was gone.
I ran to the mirror.  Sure enough my lips were fuller already! And my heart, as well.
I can get into this.
People who throw kisses are hopelessly lazy.  (Bob Hope)