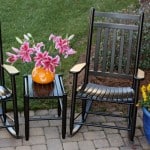 Imagine! One can enjoy God while doing nothing–not praying or working or trying to be good. That came as a surprise to me when I was a new Christian some thirty years ago. But when I read Psalm 46:10: "Be still, and know that I am God" I understood.
Just reading these words helped me to put on the brake, to slow down, to come to a full stop in life and rest. That doesn't mean sit in a chair and twiddle our thumbs or zone out on our responsibilities. But it does mean we can let God be God. We can trust him to meet our needs, to keep the earth spinning on its axis, to oversee the day and night, and to manage all the details of our lives.
I've since learned to give myself a 'time-out' each day–not for misbehaving, but for refueling. Doing nothing can sometimes be more productive and creative than doing something. Our hearts and minds will open to possibilities and probabilities during a time of quiet. Ideas come to us. Opportunities pop up. Solutions to problems are suddenly clear. And all of this can happen when we are still and know that God is.
What a blessing it is to find God while doing nothing because that means there is nothing we have to do to find him! He shows up unbidden and without asking for anything except a chance to interact with us as we stop and sit a spell and simply be.