There came a point in my life when being 'nice' didn't work anymore.
I decided to write about it–and so I did by creating this fairy-tale that I hope you'll enjoy and perhaps relate to.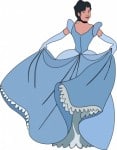 Princess Lucinda remembers well, the day when she felt . . .
abused
accused
used–up
upside down
down right mad
sad and
had all at the same time.
She had tried to be nice, but what good did it do? The more she said the worse it got. And the worse it got, the more she said––and did, until she did herself in! She opened her diary and scribbled out her feelings till not a word was left.
Then something wonderful occurred. That very day she happened on a book that featured the writing of another princess––who, just like her––was up to her eyebrows in being nice. Princess Adora had scrawled across the pages of her diary the following words:
"NICE is as cold as ice, not
as warm as spice
as people in my kingdom would prefer me to think of it."
Princess Lucinda realized that people around Princess Adora had much to gain by her niceness. They took advantage of her. They liked it when she . . .
shut up
shut down
held back
backed off
backed away
backed down
and
buttoned her lip!
So Princess Adora did––except when she wrote in her diary each night before falling asleep.
Princess Lucinda realized that if she didn't speak up for herself, she might be stuck in Nice forever, just like Princess Adora. She couldn't imagine such a fate, especially when she didn't deserve it. All she had ever wanted to do was please and help the people around her, but it hadn't worked. No matter how hard she tried, afterwards she felt as though she had died. People didn't thank her for being nice. They didn't respect her for being nice. They didn't appreciate her for being nice.
Being nice wasn't safe.
It wasn't fair.
It wasn't fun.
It wasn't real.
It didn't help.
It didn't heal.
So she went to the King. "I don't like it here," she complained. "I feel
unhappy
unwelcome
unappreciated
unchallenged
unmotivated
under the pile
undone!"
The King lifted her chin and looked into her eyes. "Come to me and I will give you rest," he said. "I'll carry your burdens, for my yoke is easy. Peace I leave with you; my peace I give you. Be still, my princess, and know that I am God. I never asked you to be nice. I asked you to be truthful and kind and real and to follow me."
Princess Lucinda wept in gratitude. She realized how she had brought all this unhappiness on herself. She had done her best to please others, to solve their problems, to take care of them, to advise, and help . . .
"And control," added the King.
Oh no!  Control? She thought she had merely spoken up. Then when it didn't turn out as she hoped, she
shut up and
sucked it up. . .
And where did that leave her?
Up-tight!
tied up in knots
not knowing what to do next.
Had she tried to do what only the King can do?  Was being nice just another way
to have her say?
to control, console, and extol
for her own glory?
Now she felt
tongue-tied
shell-shocked
defrocked
thunder-struck
and stuck!
"Seek first my kingdom," said the King, "and I will add the rest. My purpose is to give you life in all its fullness. Everything you need I will give you––and more. I love you with an everlasting love."
Princess Lucinda sagged against the bronze door of the palace and breathed.  Then she smiled at the King and touched the hem of his robe with reverence.
"Thank you," she said, "for setting me free––from me."
All glorious is the princess within [her chamber];
her gown is interwoven with gold (Psalm 45:13).