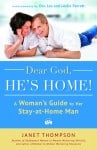 Today, friends, I'm posting a recent interview with my friend and writing colleague, Janet Thompson, about her new book for women whose husbands are suddenly retired and now home–all day! Please leave a comment. I'll put the names in a basket, choose one, and that person will receive a free copy.
Dear God, He's Home! A Woman's Guide to Her Stay-at-Home Man
(New Hope Publishers, March 2013).
1. Please tell me briefly about your life as a mom, wife, and writer.
I was a single mom for 17 years with a career in the business world. When I married my husband, Dave, we blended our families together: my daughter Kim and his daughters Shannon and Michelle and son, Sean. Shortly after our marriage, I enrolled in Fuller Theological Seminary and felt God calling me to go into ministry and "Feed My sheep." Soon God began revealing that the sheep were women and the feeding was mentoring. I obediently founded the Woman to Woman Mentoring Ministry at Saddleback Church in Lake Forest, California, and later wrote a resource to help other churches start their own mentoring ministry: Woman to Woman Mentoring: How to Start, Grow, and Maintain a Mentoring Ministry. My writing and speaking career was launched. Dear God, He's Home! is my sixteenth book.
2. What prompted you to write this particular book?

Dear God, He's Home! is the third in a "Dear God," series. The first two are Dear God, It's Cancer: A Companion Guide for Women on the Breast Cancer Journey and Dear God, Why Can't I Have a Baby? A Companion Guide for Couples on the Infertility Journey. Each of the "Dear God" books mentor women who are on a journey I've been on myself. I know the loneliness and need for support and understanding that isn't always available, so I write to mentor and encourage these women. The best compliment is when someone tells me it was if I were right beside her as she read my books.
In Dear God, He's Home!, I chronicle the difficulties and joys my husband and I encountered during the various seasons of him being a stay-at-home man: multiple layoffs, illness, disability, and now, retirement. I understand the strain on a marriage of a husband suddenly being home 24/7, regardless of the reason. As in all my books, I give various perspectives from other women, like you Karen, who are willing to share their stories to help others going through something similar.
3. How can readers benefit from the examples and advice you offer?
As I mentioned, I always include stories and scenarios from a variety of perspectives, not just my own so that the reader will surely find an example and situation she can identify with. Everyone sharing in the book, including my husband and myself, are open, vulnerable, sometimes raw, and often humorous.
I don't want the reader to only rely on my suggestions and advice. Each chapter includes "God's Love Letter to You," which is paraphrased and personalized Scripture, and "Let's Pray" where I pray with the reader. There's also space for her to write her own "Dear God," and practical application tips in the Sanity Tools section.
4. Please tell me a little about your passion for women mentoring women.
It is truly a passion and a mission that God put on my heart when I first went into ministry 18 years ago. Even though, when I graduated from seminary I asked God not to put me in women's ministry because I hadn't had good experiences as a single divorced mom. I thought He would use me in the business world, where I had spent most of my career and was familiar and comfortable.
But as He often does, God put me in a ministry where I would have to depend completely on Him. He soon gave me a heart for women and the issues we all deal with in everyday life. My passion is to help women learn to: Share Life's Experiences and God's Faithfulness.
Dear God, He's Home! A Woman's Guide to Her Stay-at-Home Man (March release, New Hope Publishers) is the third book in the "Dear God," series by author and speaker Janet Thompson. Janet is the founder of Woman to Woman Mentoring and the author of sixteen books, including the Face-to-Face Bible study series, The Team That Jesus Built, and Praying for Your Prodigal Daughter. Janet and her stay-at-home man, Dave, are enjoying this season of life in the rural mountains of Idaho.
To read a snippet of Dear God, He's Home! A Woman's Guide to Her Stay-at-Home Man: http://issuu.com/newhopedigital/docs/deargod_excerpt?mode=window
Visit Janet at:
www.facebook.com/Janetthompson.authorspeaker
http://www.linkedin.com/in/womantowomanmentoring/
www.pinterest.com/thompsonjanet
https://twitter.com/ThompsonDearGod