Cultivating the Gift of Encouragement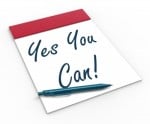 I was once asked to compile a list of ways we can cultivate the gift of encouragement in ourselves and others. I want to share those with you this week during this month of giving thanks and displaying love to those around us.
• YOUR UNIQUE PERSONALITY
"Each man should give what he has decided in his heart to give, not reluctantly or under compulsion, for God loves a cheerful giver" (2 Cor. 9:7 NIV).
Are you the life of the party?  The leader?  The  orderly one?  Or the peaceful individual who brings a balanced outlook to every situation?
Whatever your unique personality style, God can use you to encourage others and be blessed yourself while doing so.
• YOUR CARING WORDS
"The good man brings good things out of the good stored up in his heart…For out of the overflow of his heart his mouth speaks" (Luke 6:45 NIV).
"I miss you."  "Let's talk. " "God loves you and I do too." "Let's pray together."  "Can I help?"  Such words of kindness and encouragement are important to all of us.  Look at what you need.  Then you'll know there are others with the same needs and wants.  Get together with those God leads you to and share the caring words you both long to hear.
• YOUR THOUGHTFUL GESTURES/ACTIONS
"Give, and it will be given to you….for with the measure you use, it will be measured to you" (Luke 6:38 NIV).
A small gift, a loving touch, a drop-in visit.  It is amazing how  what we give–whether small or great–can bless others with encouragement and hope.  And as God promises, as we give, so He will give back to us.  What a beautiful remedy for our own needy hearts!
• YOUR REGULAR PRAYERS
   "The effective, fervent prayer of a righteous man avails much" (Jas 5:16  NIV).
My friend and prayer partner Dianna has prayed my children out of trouble, for my husband to find work, for a new home for us when I had thought it would never be a reality. And I have done the same for her over the pressing needs and desires in her life. We have upheld and encouraged one another for over twenty years. I have not read a book, attended a seminar or heard a sermon that has been more encouraging than Dianna's faithful prayers.  The prayers of a righteous friend truly avails much more than we can imagine or hope for.
• YOUR COMMITMENT
 "Let us not become weary in doing good, for at the proper time we will reap a harvest if we do not give up" (Gal. 5:9 NIV).
Be there when someone needs a friend to lean on, a regret to cry over, a sister or brother in Christ to share with.  And when you're in need the Lord will bring such a person to you. As we commit to encouraging others, God is committed to encouraging us by yielding a harvest of friendship, love, support, and prayer at just the right time!
I can say, as well, that during this time of trial for Charles and me, we are encouraged by every kind word and sincere prayer we are receiving from so many. Thank you all.