Cultivate a Prayer Garden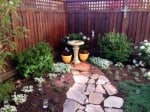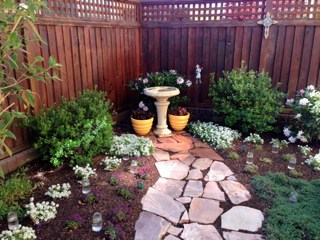 For years I wanted a prayer garden, a small plot of land where I could plant flowers and shrubs and climbing roses and then sit back and contemplate, read, pray, and relax. But for 25 years my husband and I lived in an apartment and then a condominium. So I contented myself with gardening in pots.
Our 'new' home has a small yard. The moment I saw the untilled land, my imagination took flight. Before we laid a patio, I marked off the amount of space I wanted for my little garden. My husband then surprised me by creating a flagstone path that led to a new birdbath. On either side we planted various blooming ground cover, secured a trellis for the Ice Rose to climb, gave the corner to a blooming azalea and put a Princess plant next to the fence. Within a few weeks the garden was ablaze with color and I had a place to go to whenever I wanted a time of peace and quiet reflection.
Maybe you have something similar in mind. Or maybe you never thought about it before. Now might be the perfect time to consider what would be special and unique and soul satisfying to you.
A prayer garden also yields plenty of beautiful, fresh flowers that you can bring to your dining table nearly every week of the year, depending on where you live.
My husband and I bought a small ice cream-style table and two chairs and set them on the concrete patio at the edge of the garden. This has become a favorite spot for morning tea or coffee, lunch, reading a book, or simply enjoying a time of prayer in the sun.
Do you have a favorite spot in nature for prayer and reflection?
He fulfills the desires of those who fear him;
he hears their cry and saves them (Psalm 145:19)
Grow flowers of gratitude in the soil of prayer.
Verbena Woods