Conversing With Your Spouse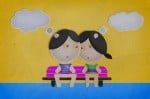 courtesy of freedigitalphotos.com
My husband Charles and I attended a married couples retreat at Mount Hermon Christian Conference Center the last weekend in April. It was a glorious time of praying, worshiping God in song, learning, relaxing, playing, eating great food, socializing with other couples and ending with a Communion service on Sunday.
The topic for the retreat? "Conversations: Biblical wisdom and ideas for dialogue that will improve our marriages." The pastor of our church, René Schlaepfer and his wife Laurie, led the sessions.
My favorite part included "5 Magic Questions That Will Improve Your Marriage."
1. What are your expectations?
"Hope deferred makes the heart sick, but a longing fulfilled is a tree of life" (Proverbs 13:12).
2. What makes you feel loved?
"Each of you should look not only to your own interests, but also to the interests of others. Your attitude should be the same as that of Christ Jesus…"(Phil. 2:4-6).
3. Will you forgive me?
"Admit your mistakes to one another and pray for each other so that you may be healed" (James 5:16).
4. What is one thing we can do to improve our relationship?
"If you profit from constructive criticism you will be elected to the wise man's hall of fame. But to reject criticism is to harm yourself and your own best interests" (Proverbs 15:31).
5. What's it like being married to me?
"If anyone thinks he is something when he is nothing, he deceives himself. Each one should test his own actions…" (Galatians 6:3,4).
Great food for thought and discussion. I also felt relieved to hear that one survey of married couples concluded that 70% of all marital conflict will never be resolved––so instead of fighting it––focus on what does work and keep your eyes on God, your primary and 'forever' spouse.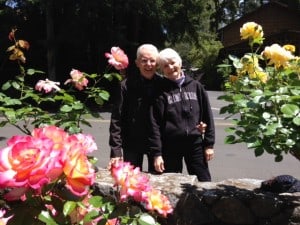 Charles and Karen by the rose garden at Mount Hermon.