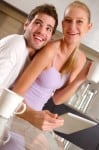 Courtesy: freedigitalphotos.net
Lucy and her husband Ken browsed a gift shop during a recent trip. They broke out laughing the moment they saw the following plaque: If you want breakfast in bed, you'll have to sleep in the kitchen!
It reminded Lucy of their friends Bob and Judy. Bob's idea of a great way to start the day is for his wife Judy to serve him breakfast in bed. Judy's idea of a great way to start the day is for Bob to take her out for breakfast. As each one waits for the other to satisfy his/her need, nothing gets done.
"I almost bought the plaque for Judy to give to Bob," said Lucy, "but I thought better of it. If I did that then maybe I should give Bob twenty bucks to take Judy out for breakfast! I decided against both. It's really not my place to jump into the middle of their muddle. After all I don't appreciate people meddling in my business."
Instead of focusing on others Lucy decided to focus on her husband Ken and find out more about what he'd like from her—the things that make him happy and content. When he expresses a special need for support or love or affection or even breakfast in bed, why fight it? Why not just meet it?
Jesus is the perfect model for such behavior. In John 10:10 He says, "I have come that they may have life, and have it to the full." And in Psalm 37:4 the writer reminds us to "Delight yourself in the LORD and He will give you the desires of your heart."
If a perfect God is eager to comfort and encourage inadequate human beings with His good gifts, how can we want less for those we love, even if it costs us a bit of our own comfort? Lucy said she walked out of the gift shop that day with a new resolve—to listen for the desires of her husband's heart and to do what she can to meet them––whether breakfast in bed or a walk in the moonlight, an extra hand in the garden, or on a ladder hanging pictures.
I'm with Lucy! When I comfort the one I love with the comfort that has been given me, I am a happy and blessed woman. How about you?
May your unfailing love be my comfort (Psalm 119:76).