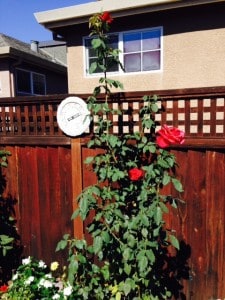 This morning I decided to do some gardening–putting a few finishing touches on the good work my gardener does each week. I trimmed a bush here and there, pulled a few small weeds, swept the cobwebs gracing my windows and fence. It felt good to tidy the yard that my husband Charles had devoted himself to for the eight years he lived here before he died.
For a moment I studied the beautiful red rose bush that I can view from my living room each day. One vine stands tall among the others and when it blooms it is magnificent to see. Charles often sat in the yard after a day's work and reflected on this single bloom that he said was his way of reaching his earthly father who was now in heaven. In his life in Kentucky, Charlie Flowers had spent the 30 years of his retirement growing and caring for roses of all varieties.
Today I thought about Charles' sweet reflection on his father and realized that now this single rose for me is reaching to heaven for my husband. I see it as a silent yet living link between us. Of course I don't have any evidence this is the case but I'm enjoying carrying on this family story and remembering the two men who introduced me to their love of roses and of each other.
"As you walk down the fairway of life you must smell the roses, for you only get to play one round." Ben Hogan
P.S. I'll be away for a week in early June so if you comment on one of my blogs during that time, please be assured that I will reply as soon as I'm back at my computer. I'm taking a little break from the keyboard! 🙂