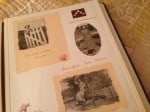 "Memories," my father often said, "are the only things we leave our children."  Mother agreed. They knew we'd outgrow the clothes and bicycles and would likely forget the games and records they gave us at Christmas.  But experiences captured on film would linger in our minds for years to come. Thanks to my parents, I have a legacy of memories.
Many of the old photos, however, were gathering dust and beginning to crumble in the aging black cardboard albums that Mother had purchased so long ago.  She passed them on to me with a wistful look in her eye.  "No room here," she said, pointing to the small suite she and Dad shared in the nursing home where they spent their final years.
As I looked through them, I saw my life and theirs entwined in a circle of love–reflected in one picture after another.  If I don't do something about these fading images, I thought, they'll soon be gone.  So I made up my mind to give back to my parents a gift of visual memories in a keepsake album that was archival safe.  I collected photos that spanned the early 30's when they met to the early 50's when I was off to high school and college.  All the pictures were in black and white–the kind that could never be replaced.  Even the negatives no longer existed.
I turned the project into an adventure and became totally absorbed in each step.  I selected and mounted each photo with care, adding captions and headlines here and there, colorful decorations, and then ended with a love letter to my parents on the last page, highlighting the many memories I had of my life with them. When I finished,  I wrapped the album in vintage paper, tied it with a bit of raffia, and presented it to them during one of my visits. We'd never again have Christmas together in the old way that we all loved but I could give them this holiday gift that would last the rest of their lives.
I can still see my mother fingering each page and my father lingering over every photo, recalling the event, the date, the experience–whether a family trip, backyard picnic, a favorite holiday gathering, or a piano recital.  We spent more than an hour laughing, wiping away tears, and sharing stories of what we remembered about times past. And now that Mom and Dad are gone, I am the guardian of this treasure until I pass it on to my children when the time comes.