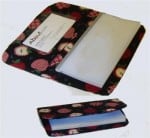 Last month after I checked off the debits and deposits in my bank account register I breathed a sigh of relief. The numbers reconciled. We had enough money to cover all bills and some left for the month ahead.
I threw up my hands with relief and called to my husband in the next room.  "We're in good shape. The bank and I agree!" My husband shouted his congratulations, knowing how much I dislike this task. He dislikes it even more. That's why I took it over.
Then I sat back and realized that God is in this chore with me. He guides my eyes, so I don't miss any numbers. He helps me see where our income has gone and even where to cut back when things are a bit tight. He also reminds me to share with others so I don't block the flow.
This year I'm no longer anxious and scared when it comes to income and outgo or unexpected expenses or filing my income tax. For I know that ". . . my God will meet all your (my) needs according to the riches of his glory in Christ Jesus" (Philippians 4:19).
And he will do the same for you. How great is our heavenly Father, who provides without hesitation.