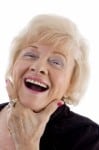 Barbara got out of bed, splashed some water on her face in the bathroom, then took a brave step. She looked in the mirror. She'd been using a new anti-wrinkle cream for several weeks and today was the day to check for results.
She stretched her cheeks and prodded her eyelids. I don't look any different. "Another fifty bucks down the drain," she shouted to the image in the mirror that looked back at her. She picked up the jar of goo and tossed it into the trash. "Take that, you hypocrite."
Barbara was fed up with these obvious signs of aging. How crummy! She didn't feel like 71. But her face told her otherwise. And it didn't help her ego one bit when her co-volunteer at the rescue mission suggested she try the anti-wrinkle cream. Who was she to dish out advice? She was 72 and losing her hair!
Barbara sat down in the kitchen and nibbled on a banana while the coffee perked.
She reached for her iPad and clicked on the Bible app. "Lord, what do you think? Am I as dreadful looking as I feel or as old as my friends indicate with their little jabs and unwanted ideas?" She did a search. It didn't take long to discover what mattered to God—the fact that he was renewing her day by day.
~ ~ ~
Therefore we do not lose heart. Though outwardly we are wasting away, yet inwardly we are being renewed day by day.
~ 2 Corinthians 4:16