Apple Slices and Mother's Day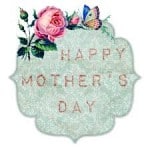 As our nation celebrates Mother's Day next Sunday I want to pay a little tribute to my mom–who is now in heaven. I remember being with her as her life drew to a close some years ago. I couldn't imagine a time without her.
I pictured her as the young, vibrant woman of my youth. She was my Girl Scout leader, school room mom, seamstress extraordinaire, and she could bake apple slices to die for!  My mouth waters just thinking about them. But I will never taste them again–at least from her  hand.
I miss her and the times we shared–over the stove, over a good book, over a cup of tea, over a cheerful conversation.
In her later years Mom was a senior with flair, with pizzazz, with dazzle, with class. She knew how to grow older with grace and gratitude. I hope I'm like her at least a little bit, as I grow older.
Lucky you, Lord!  (I hope you don't mind my saying so!) I know you are taking good care of her on the other side.