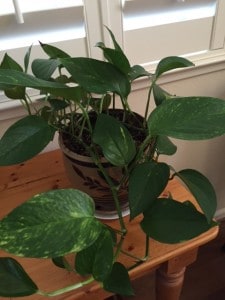 Meet Lucy, my sweet plant friend. She's been in my home and in my heart for over twenty years! Talk about faithful! Even when I forget to water her regularly she just hangs in there.
I trim her stems from time to time, but we both like them long for a full and feminine appearance!
I have been 'into' plants for many decades. They bring beauty and peace, most require minimal care, and they clean the air.
But this particular plant is my delight–kind of like a trusty house pet. Every morning when I come into the kitchen I pass by Lucy and she is simply 'there.' Her presence warms my heart, never disappoints me, and she is not jealous of my other leafy friends. I thinks she 'knows' she has a special place in my life.
I have learned from my old and dear friend to be patient, faithful, trusting, and to remain steadfast no matter what.
"I grow plants for many reasons: to please my soul, to challenge the elements, or to challenge my patience, for novelty or for nostalgia, but mostly for the joy in seeing them grow."
David Hobson (on Pinterest)
Do you have a favorite plant? If so, tell us about it.