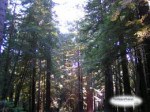 I took my friend for a nature walk during her recent visit to my community in Central Coast California. I chose Henry Cowell State Park in the Santa Cruz Mountains, home to the centuries old Redwood Grove that features a self-guided nature path.
The grove includes other old-growth woods such as Douglas fir, mandrone, oak and a stunning group of Ponderosa pines. The oldest trees in the park are about 1400 to 1800 years old. We couldn't help but stop and look up in awe at the majesty of these mighty trees and the resilience they display. Some have been burned, twisted, maimed by wind and fire but they stand proud and tall nonetheless. And new trees grow alongside the old-timers.
I was inspired by their ability to come back from stress again and again and still go on living after thousands of years. The scene reminded me of the verse in the bible:
For the LORD your God is the one who goes with you to fight for you against your enemies to give you victory" (Deuteronomy 20:4).
If God will take care of a grove of trees, imagine how he will take care of you and me. Don't give up. Stand tall. Look to the Lord and trust. As we concluded our walk my friend and I agreed with the poet Joyce Kilmer who said, 'only God can make a tree.'
~~~
P.S.  Good News: Amazon.com has selected my Harvest House book, It's Taken Years to Get This Old for their BIG DEAL sale through February 2. Only $1.99 for the Kindle version. http://tinyurl.com/ku4osq8