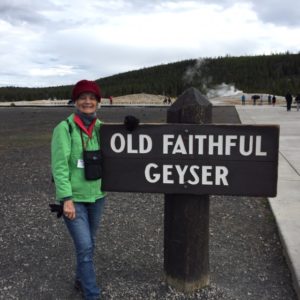 I'm home! But oh how I regretted coming to the end of my tour of the national parks on their 100th anniversary. The entire adventure was glorious in every way.
What an amazing sight when Old Faithful faithfully erupted while we were there. 🙂
Our travels took us to Mount Rushmore, Yellowstone, Bryce, Zion, The Tetons, the Grand Canyon, Monument Valley and so many other exciting destinations.
I met wonderful people, learned so much about the Native Americans, the Mormon settlement, the people who opened the west after travelling in covered wagons over mountainous terrain––and so much more.
It was a transforming trip in every way. I recommend such an experience to everyone. It is truly stunning and humbling to see what a country we have. Thank you to God, our creator, and to the hundreds of people who saw these lands and natural architecture to be worth preserving for generations now and those to come.
Praise God from whom all blessings flow!