Aging Gracefully and Gratefully
Last week I met a woman who shared a lovely idea with me. She and her family write down 'the best of the day' experience they each have and then put the papers in a jar to accumulate and read at a later time to remind them of their daily blessings.
That idea prompted me to tell her about a custom another woman shared with me many years ago. I call it a 'basket of blessings.' You write down one or more blessings you received in a day and place the papers in a pretty basket to share around the dinner table or at some other time with your spouse or family or roommate.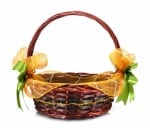 The point of all this is to focus on gratitude, the quality of being thankful, especially as we age. There are many things about growing old that can take our minds off giving thanks: health challenges, the death of loved ones, financial insecurity, and worries about 'losing our marbles' as my husband likes to say.
But somehow when you turn your heart to gratitude, everything else falls into place. The blessings of the day (some of which come in disguise) always overwhelm the disappointments.
So here's to a month of appreciation, love, and joy whether you put your 'daily gifts' in a jar, a basket, a box, or hold them in your heart.
Give thanks to the Lord, for he is good, for his steadfast love endures forever.(Psalm 136:1)