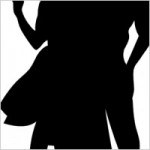 Just as there's a time to weep and a time to laugh and a time to mourn and a time for most everything under the sun––according to the Bible, there's a time to dance (Ecc. 3:4). The trick is knowing which time it is and realizing it can be different for different people.
On one New Year's Eve my husband Charles and I watched on TV a musical tribute to the great Ella Fitzgerald presented live at Lincoln Center in New York City. I remember Ella from the 1950s when I was in high school and college and a devoted fan of jazz. When I heard some of her familiar tunes again––"How High the Moon," "Dream a Little Dream of Me," "The Man I Love,"––sung by such notables as Nancy Wilson and Natalie Cole, I suddenly felt young again.
I wanted to hold the man I love, dream a little dream with him, and gaze out the window at the moon high above. But it didn't seem to be the right time for such romantic activities. There we were––me without make-up, in my old sweats and Ugg boots, hair askew, eyes squinting through glasses that needed a good cleaning. I'd restored my house that day after the holiday guests had gone—but hadn't yet pulled myself together.
Meanwhile, Charles was in the kitchen putting away food and dishes from dinner, scrubbing pots and pans, and commenting here and there on the music and the memories it evoked. "That was a great era. They don't write love songs like those anymore."
Suddenly I knew what time it was––a time to dance.
I looked at Charles and smiled. "Dance with me?"
"Now?"
"Hmmm." I held out my arms and swayed to the music.
"But I'm in the middle of––"
"I'm in the middle of something, too—of a longing––to dance."
"Okay." He walked out from behind the half-wall that divided the kitchen from the living room and took me in his arms, a sopping dishtowel over one shoulder, an apron around his waist.
I put my left arm on his shoulder––the one without the wet towel––and fit my right hand into his left one. He pulled me close, sweatshirt to sweatshirt, and danced me all over our new hardwood floor, just made for dancing. The faux flames in the faux fireplace licked the faux logs as we whirled and twirled in front of them, I in my Ugg boots and Charles in his.
In my mind, however, I was wearing silver strap stilettos and a close-fitting black dress with pearls around my neck, and Charles was clad in a navy blue suit with a white shirt and cuff links, black Ferragamo loafers and a smashing red and blue striped Robert Talbot silk tie.
"We won't forget this night," I teased. "When one of us is gone the other will remember the New Year's Eve when we danced the night away in our Uggs and didn't care a hoot about it––as long as we were holding each other close."
He nodded in agreement, and smiled behind eyes wet with tears. I realized that for Charles too, it was a time for dancing. He just hadn't realized it until I held out my arms. And so we danced and danced.
. . . and a time to dance (Ecclesiastes 3:4)
Dance is the hidden language of the soul.
Martha Graham