A Man's Home is the Lord's Castle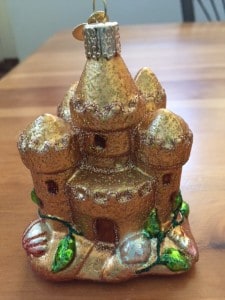 My friends Carol and Don gave me this darling Christmas ornament to remind me that Charles is now with God in the room the Lord prepared for him.
"There are many rooms in my Father's house. I would not tell you this if it were not true. I am going there to prepare a place for you. After I go and prepare a place for you, I will come back. Then I will take you with me, so that you can be where I am." (John 14:2-3 ERV)

I don't know exactly what that special place looks like, but I do know I can trust God to take care of us now and in our life after leaving planet Earth.
Today as I reflect on Charles' death one year ago yesterday, I am at peace with God's assurance–for Charles and for me and for all of us.
Much has happened since that day last year. I am different in many ways. Letting go of my man was not easy, but I didn't have a choice. It was his time to go to the place God prepared for him.
So today, I remember him with love and gratitude and joy trusting that I will see him again some day. In the meantime I'm going to live my life to  the fullest as he encouraged me to do before he died.