A Little Bird Tells Me So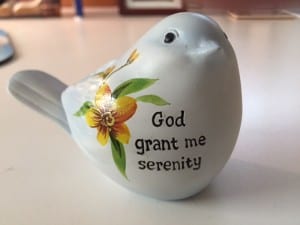 A few years ago while browsing a gift store I spotted this little bluebird. I knew right away his message was for me and I had to take him home.
Ever since that day I look at him each morning before I start my work and pray this simple prayer. I don't have to go on and on about my desires and needs although sometimes I do! But I'm now aware that the fewer words the better. God knows what is best for me much more than I know for myself.
The dictionary describes the meaning of the word serenity as "the state of being calm, peaceful, and untroubled."
God promises this state of being when we:
"Trust in the Lord with all your heart, and do not lean on your own understanding. In all your ways acknowledge him, and he will make straight your paths." (Proverbs 3:5-6)
With such vivid and specific reminders it's a wonder we are ever anxious or worried–for God has us 'covered' in all ways on all days for always!
May we take up these words of wisdom today and every day, "God grant me serenity . . ." and trust that he will grant it without question.