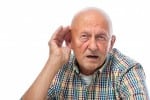 Recently while having lunch at a local restaurant I overheard two older men talking with one another.  They exchanged stories about their golf and Bridge games and their escalating health problems–one with a hearing loss, Ben, and the other with a bum knee, Earl.
I thought they were probably old friends, but as the conversation progressed, I wasn't so sure. Then they hauled out some photos of their families, including grandchildren and even a great-grandchild or two. They seemed bent on outdoing one another, especially Ben, the one with the hearing problem. His voice reached shouting volume! I know this can happen with people who don't hear well. Pretty soon heads were turning in their direction. I heard a few customers yell, "Shush."
About that time, Earl, the man with the bum knee, pointed to a picture of his wife Ruth. "With a catch in his throat he told Ben she had gone to heaven the month before."
"Oh that's nice," Ben responded.  "I hope she has a good time!"
Earl was speechless. Poor guy! But then I smiled to myself. I could imagine Ruth was having a very good time.
Oh, Lord, we do say the darnedest things when we don't know or can't hear what's going on. Fortunately, when we reach that stage, we can turn to you and know you will make all things work together for good––even those embarrassing moments.