A Comedy of Errors–Karen and Charles Style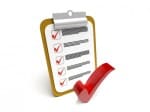 courtesy of freedigitalphotos.net
We're quite a pair–my husband Charles and me! We are now at a point where we need a reminder sheet to keep us on track. We refer to it each night before we go to bed and when either of us is away from home for an overnight trip, the one at home double checks the list before going to bed. Such a relief since we've been known to leave the stove jet on 'low' for an hour after the oatmeal was served! And to leave the garage door open all night or to neglect checking the front door lock before retiring.
If you're considering making a similar list, save yourselves the trouble. You are welcome to duplicate ours.
*** REMINDERS ***
1)    All front doorway light switches "off."
2)    Both front door locks set to "locked."
3)    Coffee maker cleaned and set to "off."
4)    Stove and sink water "off."
5)    L. Room slider door locked.
6)    Upon leaving for trip, slider locks on.
7)    Ceiling fan and light set to "off."
8)    Hall Thermostat set @ 65*
9)    Garage car door "down."
10)  Garage o/s lights "off."
11)  Garage side door "locked."
12)  Garage interior lights "off."
13)  House garage door "locked."
14)  Office coffee cup warmers "off."

15)  Office computers "off."
16)  Office lights "off."
17)  Guest room lights "off."
18)  Hallway lights "off."
19)  Bathroom lights "off."
20)  M. Bedroom closet lights "off."       
Whew! Now you know more about us than you need or want to. Gettin' old sure ain't for wimps!!
 Trust in the Lord with all your heart
and lean not on your own understanding;
in all your ways submit to him,
and he will make your paths straight.
Proverbs 3:5-6 the Bible