19 Ways to Say 'Thank You'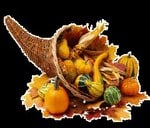 While driving north on Highway 101 in California, I was struck by the simple beauty surrounding me. Sturdy trees dotted the golden hills, cattle and sheep grazed in the lowlands, and cloud puffs clung to the clear blue sky. I was alone, at peace, and grateful for the lovely weekend visit I'd just had with my son and his wife.
Moments such as these remind me of how many things I have to be thankful for that I might overlook if I weren't paying attention. As Aldous Huxley once said, "Most human beings have an almost infinite capacity for taking things for granted."
That experience got me thinking about the gift of gratitude and the many ways we can exercise that gift in our everyday lives. Sometimes it's a private act—such as the one I experienced on my way home that day. Other times we give thanks as a body, in prayer, or in corporate acts of service. I decided to jot down a list of unique ways to express appreciation. Perhaps you'll add to it from your life and practice some of them, then pass them on to others.
Start your day with a prayer of thanksgiving. The moment you open your eyes, stop, look, and listen to what is going on around you. Focus on at least one thing or person and give thanks.
List the top 10 things you're grateful for. That should be easy—even on a bad day. You're alive. People love you. You have food and a place to live.
Show gratitude—instead of an 'attitude.' If someone gets you down, choose at least one trait about that person for which you're thankful. Difficult to do, maybe, but not impossible. Then notice how expressing your thanks, even silently, will change how you feel about that person.
Compliment your kids and spouse instead of critiquing them. Consider how it might feel if you told your family members each day one thing you appreciate about them. "I'm thankful for your smile." "I'm grateful to be your dad (or mom)." "Thanks for all the ways you show me your love."
Give thanks for your challenges. You lost your job? Be grateful. It might be the very ticket to lead you to a more exciting and better-paying position just around the corner. You caught the flu? Thank God for the chance to give your body the rest and care it appears to need.
Appreciate what you don't have. Do I really mean that? Give thanks for the lack in your life? Yes! Thank the Lord if you don't have a yacht or a motor home or a time-share like your friend or neighbor. Not that having one is bad. But if you don't, it means you won't have to make payments on the item, clean it, or maintain it.
Consider your blessings even during a time of tragedy. When a loved one dies, you can be grateful even as you rightly grieve. Give thanks for his or her life and the memories you've made together.
Take time to appreciate the bounty of nature. I'm reminded of an old song title. "The Best Things in Life Are Free." Indeed they are when you take time to gaze at a waterfall, a majestic peak, a field of flowers, a stand of trees, or a rainbow after a spring shower.
Create a 'blessing bag' and fill it with slips of paper on which you've jotted down your blessings for the day. At the end of each week read them over and you'll realize how blessed you are in ways you could hardly imagine before you started keeping track.
Send a 'thank you' note by postal mail or email. It's easy to do and a welcome sight in the other person's mailbox or in-box. Thank people for their help, for a gift received, for their presence in your life, or for no particular reason. Everyone responds to a reminder that they are loved and appreciated. 
Hug someone close to you. It may be inappropriate to hug a stranger, but there are plenty of people who could use a loving touch in keeping with the level of relationship you have with them. A warm hug expresses appreciation and affection in an intimate way that is both caring and tasteful.
Send 'thank you' presents to business clients and colleagues. How about a chocolate bar with the words 'thank you' impressed on the chocolate? Or a bouquet of flowers with a thank you balloon? Maybe a cap or t-shirt or pin that brings a smile of recognition when they see the 'thank you' behind the gesture. "Thinking of you and thanking you for all you've done . . ."
Give thanks with a homemade gift. Who wouldn't love to receive a meal, a dessert, a loaf of bread or a painting, a day of service, a knitted garment, a piece of carpentry, or other present that expresses your thanks in this personal way?
Express your appreciation in words and in person. Try some of the following phrases with colleagues, family, friends, and neighbors and write your own, as well. "Great work. Thanks so much." "You're a treasure. Thank you." "Good job. Excellent results. My heartfelt thanks."
Surprise someone with a thank you gift card. Find out the person's passions, hobbies, tastes. Then choose a card that will show your interest, as well as your thanks, (i.e. Starbucks or Macy's or Home Depot or Jamba Juice or other favorite spot).
Show your gratitude with a batch of cookies, fresh flowers from your garden, or a basket of seasonal fruit. Tuck in a card with a poem or quotation that says it all and sign your name.
Purchase a U.S. flag that has flown over the Capitol. What a unique way to say 'thank you' to a military person, business associate, or veteran. Contact the office of your congressman or congresswoman for details.
Write a personal thank you note in your own handwriting. Few people take time to do this, so it is one of the best ways to express your appreciation. You may wish to add a bible verse or a quotation you chose especially for this individual.
End each day with an original prayer of thanks to God—as you lay your head on your pillow.
—
HOLIDAY BOOK SALE
A quick note to let you know that I have a nice inventory of many of my book titles (click on BOOKS on my home page to see the cover photos) so if  you'd like to purchase some as holiday gifts, and have me autograph them for family or friends, I'll be happy to offer you a good discount on any that appeal to you. Please contact me by email (karen@karenoconnor.com) to discuss which ones you'd like (if any) and the price. I'll pay the sales tax and postage. You can send a check or money order and I'll get them right out to you. Thanks.